SIP-adus Workshop 2021
Event outline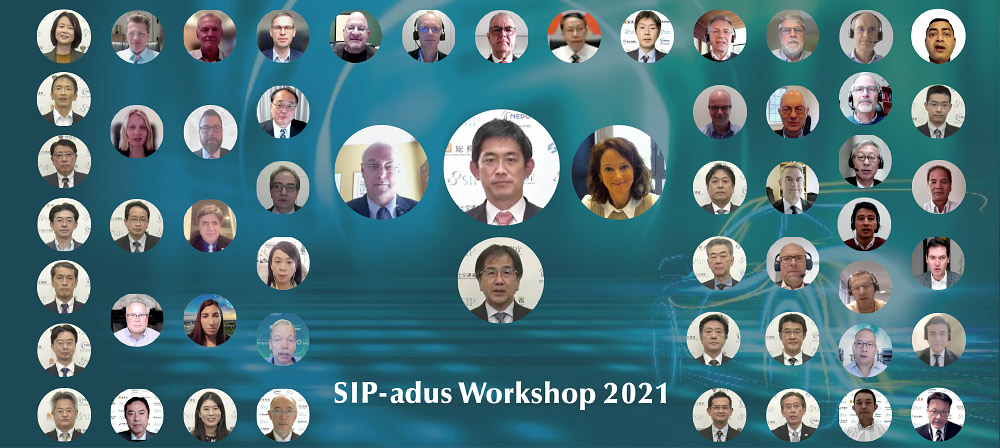 SIP-adus Workshop 2021 virtual conference period ended in a great success with 1,075 participants from 23 countries and regions over the web. We would like to express our sincere gratitude to all participants and to the people concerned for their warm support for making the virtual conference possible.
SIP-adus would continue its activity pursuing the enhancement of the international network.
Next year, the SIP-adus Workshop 2022 is scheduled for October 11 - 13, 2022, and planned to be held in Kyoto as an in-person event.
We look forward to welcoming you again.
Video On-Demand Streaming:
The all SIP-adus Workshop 2021 Plenary Sessions that were available on-demand from December 10, 2021 ended on January 5, 2022.
Thank you very much for your participation.
Date

November 9 - 10, 2021
Conference theme

After the opening session with Keynote speeches from presenters from Japan, Europe, and the United States, experts from Japan and overseas will emphasize the conference theme of SIP automated driving in their lectures on the latest polices, initiatives, and projects in the following eight sessions, additionally Japanese government ministries and agencies introduce their attempt related to automated driving.
Breakout Workshop (as of November 1)

Impact Assessment
*Experts participation only, no online streaming

Service and Business Implementation / FOTs
*Experts participation only, no online streaming

Human Factors
October 29 23:00-25:00 (JST) / 16:00-18:00 (CEST) / 10:00-12:00 (EDT)

Dynamic Map
*Experts participation only, no online streaming

Connected Vehicles
November 8 23:00-25:00 (JST) / 15:00-17:00 (CET) / 9:00-11:00 (EST)

Safety Assurance
[Virtual Testing]
*Experts participation only, no online streaming
[EU HEADSTART - JP White Paper consolidation]
*Experts participation only, no online streaming

Cybersecurity
*Experts participation only, no online streaming

[Breakout Workshop] Dates and panelists information for each theme
Organizer

Cross-Ministerial Strategic Innovation Program, Secretariat of Science,
Technology and Innovation Policy, Cabinet Office, Government of Japan
New Energy and Industrial Technology Development Organization (NEDO)

Supported by ITS Japan
Presentation Materials

Opening Session

Welcome Speech: Takayuki Kobayashi (Speech Only)
Keynote Speech-1: Kenneth M. Leonard (Speech Only)
Keynote Speech-2: Rosalinde van der Vlies (Speech Only)
Keynote Speech-3: Seigo Kuzumaki (Speech Only)

Regional Activities

Impact Assessment

Impact Assessment-7: Takashi Oguchi

Service and Business Implementation / FOTs + Human Factors

Japanese Government

Dynamic Map

Connected Vehicles

Connected Vehicles-1: Norifumi Ogawa
Connected Vehicles-8: Norifumi Ogawa

Safety Assurance

Cybersecurity

Closing

Closing: Chie Fukushima (Speech Only)